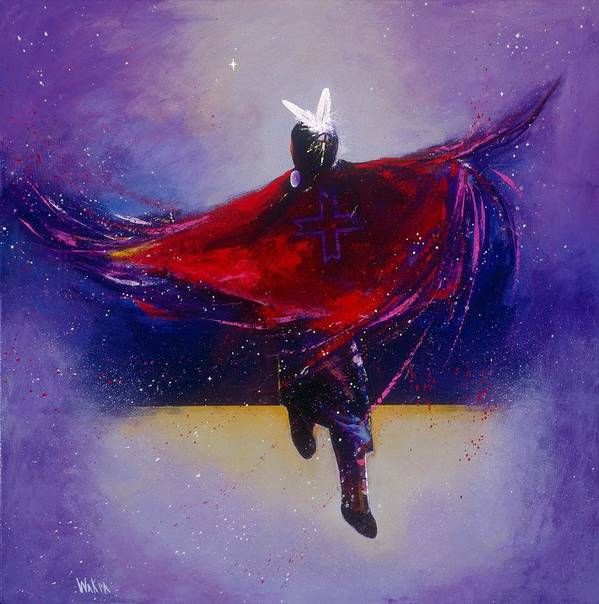 My hope for all of us, especially for young people, is that we always follow our star, like the line in the song, Sparkling Lights, suggests. 
I love the innocence and dreaminess of women dancing. One of my favorite images is of a shawl dancer on a mountain top, praying to the Creator and all of creation through the steps that she shares with the earth, like this Donald Brewer image. 
How many of us itch to get up and dance or keep time with our toes tapping or hands clapping, when we watch someone dance? What a precious gift! 
In the 12 Days of Christmas song, the ninth gift of "nine ladies dancing" is said to represent the fruits of the Holy Spirit. My interpretation would be that the nine gifts represent wisdom, knowledge, faith, healing, miracles, prophecy, discernment, and language (speaking and listening). 
Indigenous people believe that dancing around the circle at a pow wow, for instance, represents the cycle of life and its connection to everything. Many participants dance to honour a specific person or event. The nine gifts are an intrinsic part of how we can share with one another and all of creation through dancing, or enjoying watching someone else dance, or listening to music or nature, and dancing in our minds. 
When a woman dances, she connects to her inner and outer worlds, and to the kind of joy that we can feel through songs. Sparkling Lights, for example, is meant to create a joyful vision of Christmases past, as well as a time when we will once again be able to celebrate Christmas together. 
I hope you are able to celebrate this festive season through your own dance, whether that's a physical dance, or one that you imagine. If you feel like dancing to Sparkling Lights, you can find it here. 
(This is the ninth of a daily 12-part blog series offering positive and inclusive messages throughout the festive season, along with songs from Sandra's newly released Christmas album, Aurora 12. Catch up on previous posts by visiting Sandra's blog.)